Playhouse, QPAC, 13 November
"Matrix" is the result of a five-week period of creative development earlier this year between Expressions Dance Company (EDC) and BeijingDance/LDTX in Beijing. The word matrix itself, which infers a point or place of origin, perfectly encapsulates both the collaboration and the resulting program of works.
This is not the first cross-cultural collaboration by EDC, but it could be seen as the most successful, producing not only two engaging works that explore the dichotomies between East and West, but also a company of twenty dancers, 14 from BeijingDance/LDTX and six from EDC, who cohere as though performing together for years.
Stephanie Lake's Auto Cannibal, while acknowledging the multiple artistic influences, and the potential to "cannibalise" movement from one's own or another's work, nevertheless celebrates this circular consumption – the re-using and re-purposing of other choreographies on new bodies for different outcomes. It is a compelling 25 minutes of dance that positively grooves.
Underpinned by Robin Fox's rhythmic percussive score, the opening moments have a solo dancer centre stage, shortly joined by others, all moving in time with the beat, which builds in intensity. It is a black box setting. The dancers are in dark grey shorts and assorted white sleeveless tops (Xing Yameng), the flesh tones of their exposed legs and arms drawing focus under Joy Chen's evocative, soft white lighting design.
The movement is grounded, arms and upper bodies cutting swathes through the air in a style that at times has a slight Eastern sensibility. Deconstructed motifs from other works are occasionally recognisable. Generally, though, the movement is skillfully constructed to look intuitive and organic, the dancers merging and diverging in patterns of beautifully fashioned dance.
A section using contact partnering has the "attract and repel" construct as the dancers create shapes of complexity and beauty, while a riveting solo by Josephine Weise, of angular movement and bird-like arms that twist behind and above her brought to mind The Dying Swan. Making it a duet, the equally lithe Chen Tian joined in, displaying a sharply chiselled technique.
White feathers drift down over the dancers in the final, visually potent moments, catching the light as they fall, until one lone dancer is again left on stage.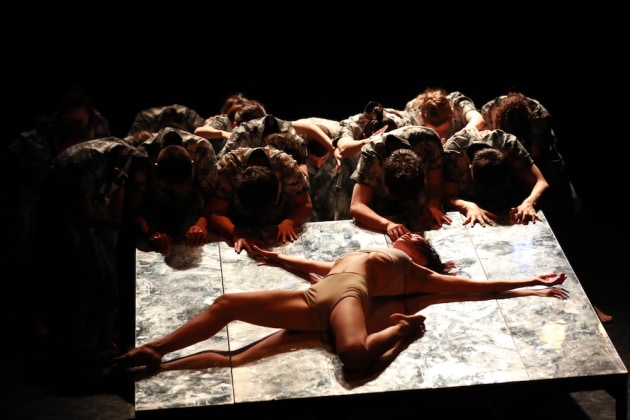 Encircling Voyage, by Ma Bo, continues the circular theme by exploring the idea of life as a full-circled voyage where, by coming to the end of it, you are also returning to its beginning.
The work begins in silence as a tightly knit group of dancers move in unison, in small, rhythmic steps across the stage. Dressed uniformly, in long shirtdresses (Wang Yan), in the same grey and white stonewashed patterning, the dancers are, effectively, difficult to differentiate.
Encircling Voyage is an expressive work, matched by David Darling's equally expressive orchestral score, in which a series of vignettes is used to explore relationships from birth. The work is therefore quite episodic with, again, a blending of Eastern and Western styles.
Six benches with flat, reflective, stainless steel seats are manipulated across the space to form different settings for each vignette, at times reflecting light back into the auditorium in glimmering fragments. The movement is fluid, mostly grounded, and often evolves in waves. One beautifully constructed segment has three men and a woman in a mesmerising quartet of soaring lifts and dives.
The work's final moments galvanised the attention, and were its most visually powerful. Death is evoked, as a lone female lies prostrate on a raised bed formed by the benches – the other dancers packed tightly around and behind her. The resonating sound of temple bells, a baby's cry, and clouds of white ochre exploding over the prone dancer were a breathtaking final evocation of Ma's theory.
There is no denying the sheer beauty and power of 20 accomplished dancers performing en masse and in perfect unison. It made "Matrix" a compelling evening of contemporary dance.
– Denise Richardson
Pictured top: Stephanie Lake's 'Auto Cannibal'. Photo: Yin Peng.