Asia TOPA will be joining the world of online offerings this month, with Asia TOPA: Connected, a series of archival performances, mini—documentaries and podcasts.
Based in Melbourne, Asia TOPA: Asia-Pacific Triennial of Performing Arts celebrates the creative imagination of artists and cultures in the Asia-Pacific region.
Asia TOPA Connected brings highlights of the 2020 festival, which ran from January to March this year, online. Amongst the performances available to view is Metal, an Asia TOPA co-commission with Théâtre de la Ville, co created by Lucy Guerin and Ensemble Tikoro's Robi Rusdiana. With five dancers and eight metal-heads, the performance sees heavy metal and traditional throat singing collide with contemporary Australian dance.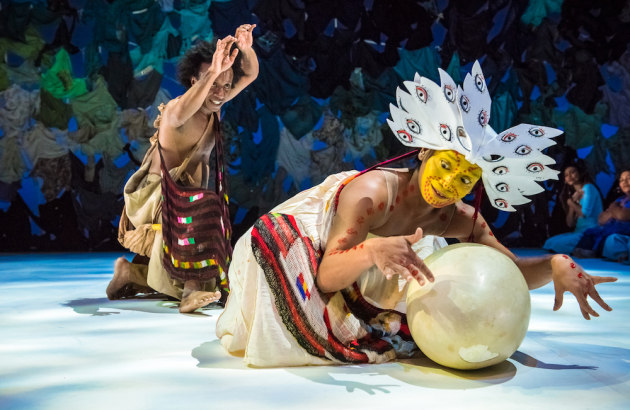 Commissioned by Asia TOPA with Theater der Welt and Holland Festival, The Planet: A Lament will also be available for viewing online. This new work by Indonesian playwright, theatre and film director Garin Nugroho features dance and film, set to a song cycle from a 14-voice choir. The Planet – A Lament tells the story of the world being created anew in the Indonesian archipelago following a devastating environmental disaster.
Asia TOPA Connected also includes several short documentary films, including The Seen and Unseen, a short documentary video about the creative process of adapting Kamila Andini's original film of the same name for the stage. The work fuses contemporary Indonesian dance and physical storytelling and the documentary includes footage captured in Bali, Jakarta, Singapore and Melbourne.
Also on the menu is a documentary about the creation of Samsara, a world premiere during Asia TOPA, created and performed by international dance artists Aakash Odedra (UK/India) and Hu Shenyuan (China), with live music by Nicki Wells. Samsara merges mythological storytelling with personal experience touching on the vast histories, philosophies and cultures of China and India in a work of dance and storytelling. In this documentary video, audiences will learn about the creation of Samsara and immerse themselves in the energy of the work with access to performance and rehearsal footage, behind the scenes action and interviews with the creators and performers. 
All works and documentaries are available from Monday 13 July. For the full Asia TOPA Connected program, head to https://www.asiatopa.com.au/
Pictured is 'Metal', by Lucy Guerin and Robi Rusdiana. Photo: Gregory Lorenzutti