Three Melbourne dance residencies chosen for Take Over! 2020
Take Over! is running this year, just not quite as usual. The fourth year of the program by Arts Centre Melbourne in partnership with Melbourne Fringe has a new at-home and online format. Take Over! has commissioned ten artists and companies this year to make unique works which will be developed online and presented during Melbourne Fringe 2020. Each has been asked to develop a work that will include a two-week at-home residency. The residencies will run from July to September and the performances, at Melbourne Fringe in November, may be online or live.
The 2020 dance artists include Karma Dance – Govind Pillai and Raina Peterson; Joel Bray; and Jonathan Homsey with Maggie Zhu and Maggie Chen.
At the beginning of each residency, the artists will introduce themselves and give a short introduction to the work they will be developing. By the end of the fortnight, the artists will reveal content online. Then in November, all commissioned works will be presented together as part of a one-off event during Melbourne Fringe. Details for this will be announced in due course. 
Karma Dance's work is We've Been Here Before. It will be revealed on Saturday 8 August at 2pm.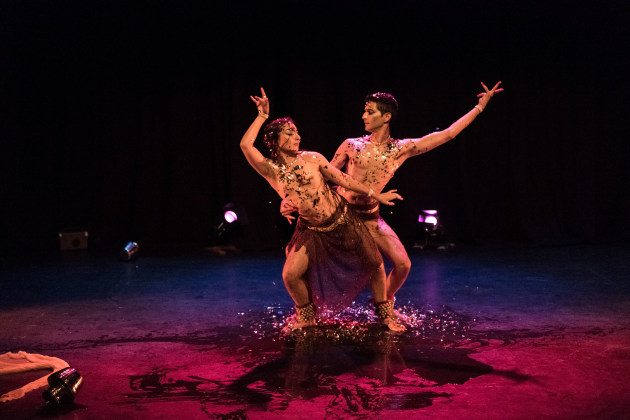 Joel Bray's work is Giraru Galing Ganhagirri (The Wind Will Bring Rain). It will be revealed on Saturday 22 August at 2pm.
Jonathan Homsey's work with Maggie Zhu and Maggie Chen is I Am Maggie. It will be revealed on Saturday 29 August at 2pm.
"We received a staggering ninety-four applications for this project from Victorian independent artists – bold, courageous and inspiring ideas from many of our leading performance makers. Reflecting on the artists that have been selected I am excited by the breadth of life experience that the 2020 Take Over! artists bring to the program," stated Arts Centre Melbourne creative producer, theatre & contemporary performance, Daniel Clarke.
"Spanning dance, theatre, spoken word, music, live art and installation we asked artists to consider their relationship with their audience, both online and in real life. I'm confident that this year's Take Over! will result in many new works being created, works that capture a moment in time and ignite the imaginations of both our artists and audiences."
"Take Over! 2020 will be epic. Its durational format, bold artist choices and unique approach to creating work will result in an event that will be constantly surprising as it shifts form and focus over its extended duration. Can you imagine anything more quintessentially 2020 than that," commented Melbourne Fringe creative director and chief executive officer, Simon Abrahams.