Brisbane Powerhouse
August 8
It is eight months since Queensland Ballet (QB) last performed on stage, in its annual production of The Nutcracker. No-one could have dreamed then that a wrecking ball called Covid-19 was about to lay waste the arts in all its forms, in particular dance.
As artists everywhere made-do, QB, undaunted and in a show of resilience, created its much-lauded digital program, 60 Dancers: 60 Stories, to bring audiences and dancers together during isolation. On balconies and in backyards, dancers created short new works that explored themes of love, also tapping into a reservoir of creativity in each of them that otherwise might have lain dormant.
                                                                                                Yoshida Neneka. 
For "Lights On", this program of often site-specific works was curated and adapted for a small audience in the reimagined cabaret-styled performance space. Restructured into three thematically cohesive acts, it runs just over the hour, with a small break for curtain-calls between each. 
Act One – Where is Love, comprises eight short works, mainly solos, apart from one tender duet titled Introspection, choreographed and performed by Renee Freeman and Heidi Freeman. The repeated motif of hugging - in this piece and throughout the act - underpinned an overall theme of reflection and longing.
                                                                 Renee Freeman and Heidi Freeman.
Each work is a beautiful nugget of creativity blending seamlessly into the next, all cleverly constructed to use the full catwalk shaped stage set against the rough graffitied brickwork of the Powerhouse wall. 
My favourites included Neneka Yoshida's Afterglow of a Nocturne – Chopin's Op. 9. No 2. En pointe and in a red dress, Yoshida wrung every note dry with her glorious use of the upper body. Lina Kim's Come With to Satie's Gymnopédie No.1 was similarly romantic, the more balletic construct contrasting with her liquid ports de bras.
Luke Dimattina's 11W to Not the Man I Love (Brett Sturdy), one of four terrific male solos, has laid back jazz overtones that explore off balance movement together with expansive use of the upper body. 
Act Two – Looking for Love is an arrangement of some of the more light-hearted pieces from 60 Dancers: 60 Stories, pulled into cohesive shape by additional choreography and the masterful wit of its director, Matthew Lawrence. 
Kieren Bofinger, choreographer and also composer for the first section, is the young lad out on a date – Laura Toser, the romantic La Sylphide he dreams of. Three mates (Patricio Revé, Oscar Delbao and Charlie Slater), joined him in a competitive dance-off, allowing a fine show of physical pyrotechnics, which drew applause and laughter.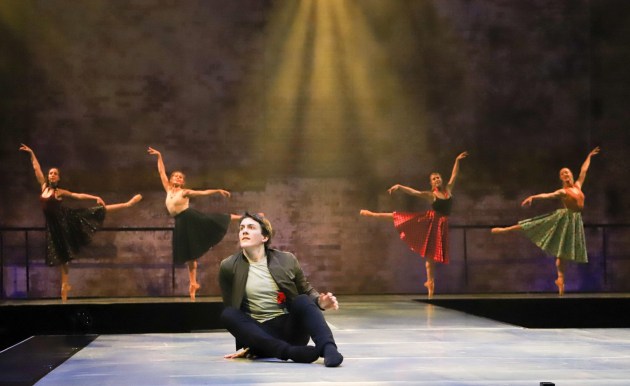 Kieren Bofinger.
Later, references to Swan Lake in the music and movement, especially a smartly choreographed take on the Dance of the Cygnets by the four men, added to the fun. 
Finally, Serena Green, Vanessa Morelli, Isabella Swietlicki and Sophie Zoricic joined them for a rousing take on the swing duets of the 1940s to Rameau's Tambourin in E Minor. 
Six couples made up the final act – Finding Love – a selection of pas de deux from the original program. All were equally engaging – carefully crafted and immaculately performed.
Georgia Swan and Joel Woellner's languid swooning duet to Rachmaninoff's Prelude in D was noteworthy, while Lucy Green and Samuel Packer were mesmerising in their duet, Prelude, composed by friend, Peter Wilson. Green, looking exquisite in a short white tunic, nailed lift after soaring lift, in a piece that captured the mood of yearning and yielding in the music. 
Solo piano, beautifully played by either Brett Sturdy or Stefanie Gumienik, accompanied most works, enhancing the programs already restrained but emotive quality. However, the performance was mainly a tribute to the dancers – to their resilience, their passion and their undiminished pursuit of perfection. 
Sadly, as wonderful as this performance was, it by no means marks a return to normality – there will be no Nutcracker this year.
–    DENISE RICHARDSON 
All photos by Tamara Hanton.