Pioneering dance health program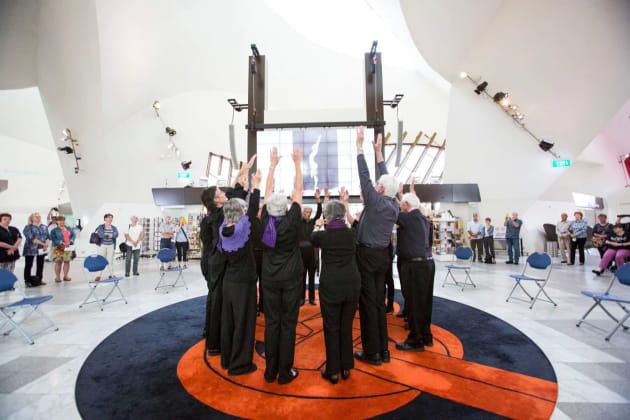 There is a growing body of evidence strongly validating the importance of exercise in the maintenance of our well-being – physically, cognitively and socially. Dance ticks all those boxes.
So Phillip Piggin, the Creative Program Officer at Belconnen Arts Centre (BAC) in Canberra, is delighted to announce the commencement of a program called Dance for Well-Being ACT. This 30 month program has been supported by ACT Health, and is enabling the BAC and the Tuggeranong Arts Centre to work with a number of key partners to provide dance programs for those communities challenged by Parkinson's disease, Alzheimers or Multiple Sclerosis.
"Such decisions reflect a visionary health department that fully understands and values the place that the arts plays in maintaining a healthy, active and connected society – all of these being key ingredients for a healthy and aging society," Piggins says. "This has enabled the ACT arts centres to pioneer programs at the intersection of arts and health practice that will be exemplars for other jurisdictions, and will place us solidly on the map for future generations."
People with these health challenges, plus family, carers and friends, are very welcome to participate in the weekly dance programs, which are led by a team of inspiring, experienced and diverse dance practitioners, including Jane Ingall, Gretel Burgess, Debora di Centa, Jacqui Simmonds and Piggin himself.
So far the responses have been exceptionally positive.
"You can do this class – it's fun!!  It gives you a lift in your spirits!"
"Most enjoyable class.  Love the music and movement – thank you."
"A great variety of music and lots of fun!"
"The class was unexpectedly fun and interesting."
"Very affirming to do something I can do – but would not have thought I ever would do."
Piggin was appointed as Community Cultural Development Officer at Belconnen Arts Centre in 2010, and with the support of a Churchill Fellowship trip to the USA and the UK, now pioneers dance programs for People with Parkinson's, for People with Dementia and for People with MS in the ACT.

He has recently been awarded Honorary Life Membership of People Dancing - the UK foundation organization for the leading, delivering and supporting of community dance, and has been nominated again for Services to Dance in the Australian Dance Awards for 2017.
Details: here (Belconnen) and here (Tuggeranong)
or call Philip Piggin on 02 6173 3300  or at philip.piggin@belconnenartscentre.com.au
The Program is funded by ACT Health, and supported by Alzheimers Australia ACT, MS Ltd, Parkinson's ACT, Belconnen Arts Centre and Tuggeranong Arts Centre.