THE MODERN FACE OF SYLLABUS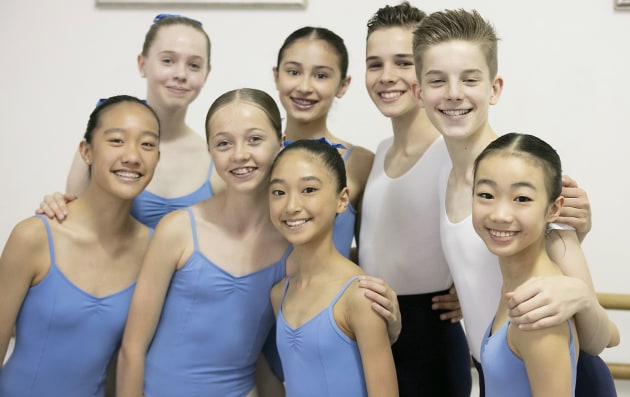 Syllabus organisations go back a long way. They were originally established to improve teaching standards or to codify and preserve the teaching methods of pioneer dance teachers, which once upon a time were handed down by word to mouth. Methodical, year by year teaching programs were devised and examination boards established. The earliest syllabus organisations set up in Australia around the 1920s and 30s, and came from overseas. Over time, Australian branches were established or home-grown organisations set up. Australia now has an astonishing number of syllabus organisations, some devoted to a single genre, such as tap, others covering the whole spectrum. Each has adapted to Australia's unique conditions and culture. They have also responded to changing attitudes to children's education and welfare.
Exams have long been the driving force behind each syllabus, overseeing the progression of students through each level of learning and awarding them with qualifications in their own method. One of the most obvious differences between today's exams and those of yesteryear is in their strictness and formality.
Many of today's dance teachers will remember their childhood dance exams as terrifying experiences. The examiner would sit out the front, stern and strict, with very little communication with the candidates. "In my day," laughs Cecchetti Ballet Australia chairman Carole Hall, "the examiners wore hats and gloves!" These days, most organisations ensure that childrens' exams are an enjoyable experience, especially at the very young levels. The emphasis on remembering the exercises and mastering technique is balanced with a greater emphasis on play, imagination and creativity.
This reflects changing parental attitudes to children's upbringing, where unquestioning obedience is now valued less than the freedom to express and enjoy themselves.
Carole Hall (OAM) is a senior examiner and Fellow of Cecchetti Ballet Australia. "When I started teaching," Hall says, "childrens' exams were much more rigorous. Now they are more flexible." The Cecchetti exam for the youngest candidates, for instance, marks technique as only one of five elements, such as musicality and sense of enjoyment. As the exam levels go higher, the emphasis on technique increases, until it is weighed 70/30 at majors level.
One element that hasn't changed in the exam context, however, is the expectation of discipline and etiquette. "But by the same token," Hall says, "examiners are much more sympathetic."
Syllabus organisations have also expanded to embrace much more than just the correct way to teach dance technique and assessment. Once upon a time, passing on complicated enchainments or the exact degree of a head incline was of major importance. Now many syllabus organisations include subjects such as anatomy, music and nutrition, and teachers learn business management, child psychology and injury prevention. Some syllabuses offer government accredited courses.
Syllabus organisations are constantly revising their teaching programs to reflect developments in dance technique and choreography. On a practical level, they are also adapting to superfast modern day communications. Teaching tools are digital, exam results arrive much faster.
Diane Gepp is the president of the Commonwealth Society of Teachers of Dancing.
"The modern syllabus is so much more relevant to what kids want," she says. "We can't keep offering the old fashioned experience. Kids live in a much more instantaneous world, a 'one click away' world, and TV, the internet and social media have put in kids' minds what they want to do and what they want to look like. We have to be proactive to meet those expectations."
Gepp raises another interesting consequence of today's digital world. While syllabuses are committed to encouraging children's creativity, she finds the teachers' creativity is also in need of help. "Because everyone has so much access to video, we can all see the musicals or shows on-line, [whereas] in the old days you had to go and see a show on Broadway. I think it has stifled people's creativity. They no longer have to make up their own routines, they can just copy what they see on-line. We see it all the time in competitions – you could say some routines are almost plagiarised." In response, the CSTD has introduced "building blocks" into its syllabuses to help teachers develop their own choreographic skills.
Possibly the biggest difference in modern day syllabuses is in the recognition that dance is not just for children, nor just about preparing pupils for performance careers. It could be said that, in the old days, syllabus catered for the children who were intent on dancing as a career rather than just as recreation. Now, that distinction has broken down, with syllabus organisations happily catering to pupils regardless of their ambition -- or even their age.
As an example, the Royal Academy of Dancing has just introduced a new component called Discovering Repertoire. This is designed for students from 12 years right through to adults. It can be taken at different levels, at the student's own pace, on pointe or not, with or without exams. The emphasis is as much on the social, health and well-being benefits of dance, while at the same time allowing for a more rigorous training at the upper levels of the syllabus. "It's the best of both worlds," says the RAD's Regional Manager South Australia. "Students can be inspired with the romance of the variations that everyone falls in love with. And it allows us to open up a love of ballet to a lot more people."
Combining rigour with relaxation, seriousness with fun, learning with imagination. Syllabus organisations today are broader reaching and more open than in the past. They still adhere, however, to the principles with which they were first founded: the care, preservation and dissemination of a beautiful art form.
 This article appeared in the Feb/Mar 2018 issue of 'Dance Australia'.
See our guide to Syllabus Organisations on this website here.