Geraldine Higginson chats to two rising stars of The Australian Ballet.
Marcus Morelli and Jade Wood are senior artists with The Australian Ballet, and good friends. They are well-matched in terms of height and build, and are frequently cast to dance together in roles varying from the classical (eg. Bluebird pas de deux in David McAllister's The Sleeping Beauty; the Diana and Acteon duet) to the more contemporary (Red Couple in Jiri Kylian's Forgotten Land; the Firebird and Kostchei in Graeme Murphy's Firebird). Sitting in the Green Room at the Sydney Opera house one morning before their company class, we discussed their early years and career highlights, what makes their partnership work and their respective strengths as individual dancers.
Morelli is a little younger than Wood, graduating from The Australian Ballet School into the company in 2014. By comparison Wood (who also attended the ABS) started her professional career with The Australian Ballet in 2011. Both have ballet "in the family" so to speak. For Wood it was at her mum's ballet studio – the Jillane Reynolds School of Dance in Cairns – that her ballet journey began when she was just three years old. Melbourne-born Morelli started ballet at the age of 10, after being encouraged by his older sisters (who were already learning dance) and their teacher. He trained at the Jane Moore Academy of Ballet before joining the ABS, and is not the only one in the family to make it as a professional ballet dancer – his sister Vanessa Morelli currently dances as a First Company Artist (one rank below soloist) with the Queensland Ballet.
In recent years Wood and Morelli have been individually recognised within the company by winning Telstra Ballet Dancer of the Year awards, with Wood taking out both prizes (the main Telstra Ballet Dancer Award and People's Choice Award) in 2018. Morelli has won the People's Choice Award twice (in 2015 and 2019) and, given they often dance together, it was fitting that it was Jade Wood who was onstage (as the previous year's prize-winner) to hug and congratulate recipients Jill Ogai and Morelli at the 2019 Telstra Ballet Dancer of the Year award presentation.
In terms of career highlights so far, Morelli singles out dancing the title role of Spartacus in Lucas Jervies' production. "As the first leading role I danced it holds a special place in my heart, but also because the drama in that ballet is so human, the story so real." Wood says that in recent years she has relished the opportunity to dance principal roles she has danced in previous seasons as it gives her "the opportunity to go deeper into a character, because you have the muscle memory, the confidence of having done it before".
Looking back, the pair can recall being partnered together as ballroom guests in Alexei Ratmansky's Cinderella in 2014 (also Morelli's first year with the company). Five years later, in 2019 they came full circle, dancing the leading roles of Cinderella and the Prince in the same production.
Last year they also danced the leading roles of Eros and Psyche together in Stanton Welch's Sylvia, and had a new dramatic duet choreographed on them by Tim Coleman for the AB's season of "Bodytorque" called Some place high up. This loose retelling of a scene between romantic leads Teddy and Tilly (as played by Liam Hemsworth and Kate Winslet in The Dressmaker) attracted a lot of positive attention. Importantly, it also gave the pair the opportunity to stretch their lyrical and expressive capabilities. Wood recalls that when choreographer and fellow company dancer Tim Coleman first asked her about being in his new work, one of her first questions before accepting was about who she would be dancing it with. Tim's suggestion of Morelli was a considerable plus. Wood and Morelli spoke of Tim's creative process as being "very collaborative" and of really valuing the experience creating it with him in the rehearsal room.
So, what makes their onstage partnership work so well?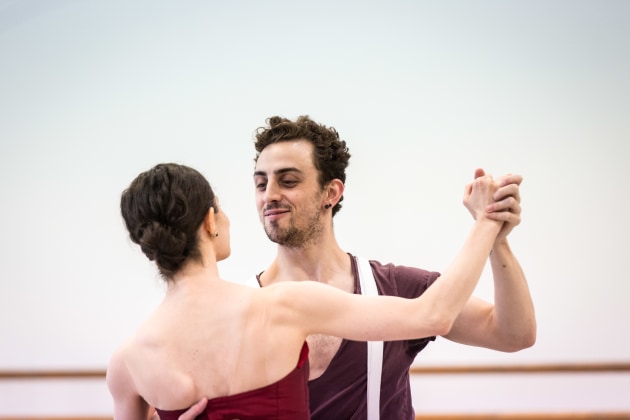 They agree that trust is key. According to Wood: "Usually everything works pretty quickly, and we don't need a lot of rehearsal." Being mentally "on the same page" means that when things do go wrong or aren't working, they can work together to fix it, often without needing to talk much. Morelli says that he and Wood, "hear and move to music in the same way", noting that in narrative works, there is something similar about how they interpret characters and tell stories. Often their individual understanding and portrayal of their own characters is in-sync from the beginning. Being well matched physically, with similar heights, is an advantage as logistically it just makes the partnering work easier. But, having said that Morelli observes that it is still very possible to partner well with a significant difference in height, it will just take a bit more rehearsal as both dancers make the necessary adjustments for particular steps or sequences.
Audiences may not realise is that with the number of performances given by The Australian Ballet (and the multiple cast combinations for each work) it is necessary for dancers – especially those doing soloist or principal roles which typically involve more complex partnering work – to remember much more than the steps themselves. They need to know not just how to dance a particular role, but how they previously performed that role with that exact partner. There might have been particularly tricky sections where they needed to remember to do something a little bit differently, be it in the movement itself, their positioning onstage, or simply in the timing.
Both dancers say they are really good friends outside of work, and while this is clearly not a necessary part of developing a successful dance partnership, it obviously works well for them.
Technically, Morelli has particularly good elevation, with a soft, juicy plie. He also turns like a top. Sometimes, qualities like these can lead to a dancer being pigeonholed or labelled as being best suited to the virtuoso, powerhouse roles. Towards the end of the interview I asked both Wood and Morelli what they saw as each other's strengths or special qualities, not as a partner but as an individual dancer. It says a lot about Wood's's thoughtful nature that in her reply she homes in on what she sees as Morelli's perhaps less obvious, but even more special qualities.
"Aside from his virtuosity, Marcus has an absolutely beautiful quality in port-de-bras and adage." Explaining that she usually stands next to Morelli on the barre for daily company class, Wood muses aloud – turning slightly towards him, "Actually I find it really calming just to watch you do plies…" In turn, Morelli says there is something about the quality of Wood's movement that appeals to him: "I personally really enjoy watching Jade dance – whether it's classical or contemporary, and she is so versatile. She can jump, turn and act."
So, next time you watch The Australian Ballet keep an eye out for Jade Wood and Marcus Morelli. These dancers are on their way up.
This article first appeared in the April/May 2020 issue of Dance Australia. Want to read more like this? Buy Dance Australia at your favourite retail outlet, or online here. To make sure you never miss an issue, subscribe to Dance Australia here.
Pictured top: Jade Wood and Marcus Morelli performing the Diana and Acteon duet. Photo: Daniel Boud.