In a relatively short space of time young dancer Josh Green has burst onto the international ballet competition scene, writes Catherine Paine.
In a small NSW country town, Josh Green prepares for another international ballet competition. 17-year-old Josh was recently the only Australian to make the senior final 20 competitors at the 2018 Youth America Grand Prix (YAGP) in New York. His performance on the stage of the famous Lincoln Centre, in front of an audience of around 2000, was undoubtedly the biggest moment of his ballet life so far. As well as this recent success, this year he has also won the senior section at the audition for the Asian Grand Prix, he was the outright winner of the 2018 level 6 Jacqueline Moorland (RAD) awards and he was recently awarded the Dame Darcey Bussell Genee Bursary to attend the Genee International Ballet Competition.
Two things make Josh different from most of his competitors:
The first, Josh has only been dancing for two years! 
The second - he is being coached and mentored by a dedicated group of teachers from a small country ballet school in Lismore NSW. His full time class consists of between three and five students, all of whom are achieving at a high level. 
Josh began dancing at the Karen Ireland Dance Centre in Lismore at the relatively late age of 15. He found his way to dance almost accidentally through his singing teacher. She was showing Josh some movement for music, when she noticed he seemed to have a good feel for dance, so she suggested ballet lessons. After approaching Karen Ireland, Josh was placed in the intermediate foundation ballet class.
Ireland immediately noticed some attributes that all dancers hope for (great turnout, fantastic feet, line and natural flexibility). Josh joined after school classes with other students who were significantly younger than himself, but, determined, he very quickly progressed to the next level and the next.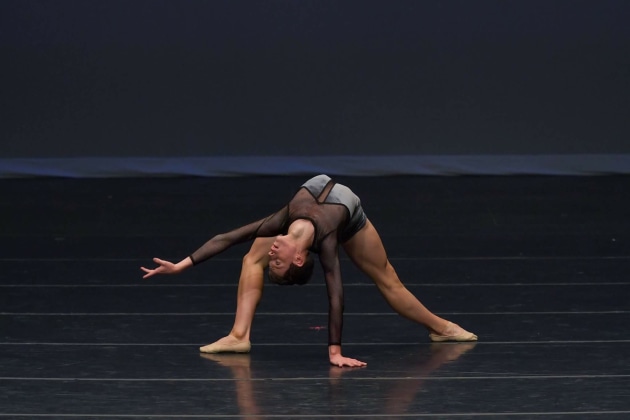 Apart from his physical attributes, Josh demonstrated the natural talent and aptitude for ballet that teachers dream about. After only one year of after-school lessons, in January 2017, Josh joined the full time class where he very quickly excelled. His two-year rise from absolute beginner, through the ballet grades, to the top of many prestigious competitions has been phenomenal.
As to what now for Josh, he has just completed his Advanced 2 RAD exam and he will compete at the Sydney Eisteddfod Ballet Scholarship in July,  and both the Asian Youth Grand Prix finals and the RAD Genee International Ballet Competition in Hong Kong in August. He is then moving to Germany in September, where he will take up a full scholarship to the John Cranko Schule, Stuttgart.
Despite running a small rural school, Ireland has had success with many students over the years, with her students being accepted into full time schools such as the Australian Ballet School, New Zealand School of Dance, John Cranko Schule Stuttgart and the Dutch National Ballet School. Her students have also made the semi finals and finals at Prix de Lausanne, YAGP, Asian Grand Prix, Genee and Alana Haines.  Josh's fellow student Kayla Van Den Bogert, who was a semi finalist at Prix de Lausanne and YAGP this year, will also head off in September to join the Dutch National Ballet School. 
For Ireland and the other teachers at this amazing little school, the rise and rise of Joshua Green is bittersweet. It feels like he only just joined them and already he is about to embark on the most amazing international ballet journey. They are understandably, so incredibly proud of him. 
Pictured top: Josh Green at the 2018 Youth America Grand Prix.
Read more about the teachers who meet the challenges of teaching ballet in regional areas, including Karen Ireland, in Michelle Dursun's "Ballet off the Beaten Track".