'Open your mind and question everything'
Timothy Gordon is a teacher at the National College of Dance in Newcastle, NSW.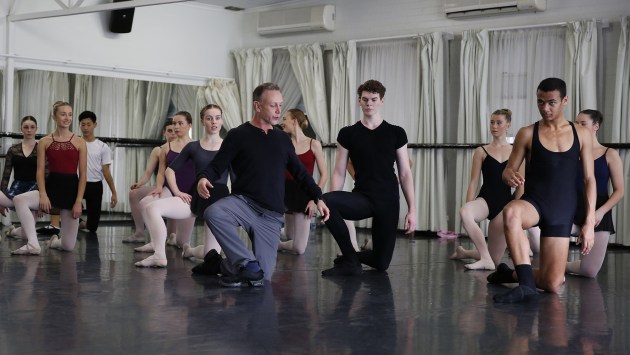 How long have you been teaching?
Over three decades – which has included an insurmountable quota of plié exercises!
 What drew you to teaching dance?
It evolved, from a career as a performer with the Frankfurt Ballet, under the directorship of William Forsythe and my interest and desire to assist other artists in their roles within the company structure. This approach would help me to grow my understanding and knowledge regarding the dance arts and provide me with a profession, after my performing career had ended, to be of service to the artists I felt most inspired by and aligned with.
 Do you specialise in a particular age group?
Presently, it includes 15- 18-year-olds, whose ambition is to have a sound, complete and high level of training in the most necessary of techniques, choreographic genres and rehearsal and performance disciplines. Young people relish creating and performing – inspiring us all to continue our investment in them.
 How do you balance the importance of technique with the importance of artistry in your students?
Integrate both these aspects simultaneously, through a thoughtful choreographic symbiosis of technical and musical ideas, touched also by the innovative hand of creativity.
 What is the most rewarding part of teaching dance?
To contribute and guide our students in their personal growth and artistic and technical development. It is also a great privilege to see and be part of our students' show of joy, enthusiasm and camaraderie, as they move through the challenges of the programs we offer and are finally ready, after completing the course, to go into the world, to participate fully in the profession.
 What has changed since you were a student? 
Technology has changed our lives in every way, providing an abundant resource of visual information in dance that simply wasn't available to my generation.
 What advice would you give your students if they decide on a teaching career?
Leave it until your experience shows you the path.
 If you had to choose one main line of advice to pass on to your pupils, what would it be?
Open your mind and question everything.
This is an extract from our Future Makers special in the current print issue of Dance Australia. Buy your copy at your favourite retailer or online here or here.
 SUBSCRIBE AND TAKE ADVANTAGE OF OUR CHRISTMAS OFFER: $22 FOR 4 ISSUES (PRINT AND DIGITAL), a saving of $40 on the full price! Just go https://www.greatmagazines.com.au/index and apply the code ADV/XM23.