Nicola Leahey: dancing with Sidi Larbi Cherkaoui
Trained: Terry Simpson Studios (SA); Diploma in Dance Performance at New Zealand School of Dance.
Presently: Dancer with Eastman company; Sidi Larbi Cherkaoui    
With fewer than usual auditions and performance opportunities at present, have you found other outlets for your talents or artistic expression?
I have to say that I've been quite fortunate during this present situation with the pandemic. I was able to continue to create with Sidi Larbi Cherkaoui starting from July, 2020. We changed the way we worked and made solos and duos instead of larger group pieces. I was also lucky enough to be part of some film projects, one of which was a film by Joe Wright which was shot over three months in Italy.  
The biggest challenge has been the lack of performance opportunities. I know it has been tough for many dancers to find, not only an income, but also a place to share their art, their passion. In that sense, I've also taken this opportunity to focus on more practical and domestic projects which I normally don't give as much attention due to a busy tour schedule.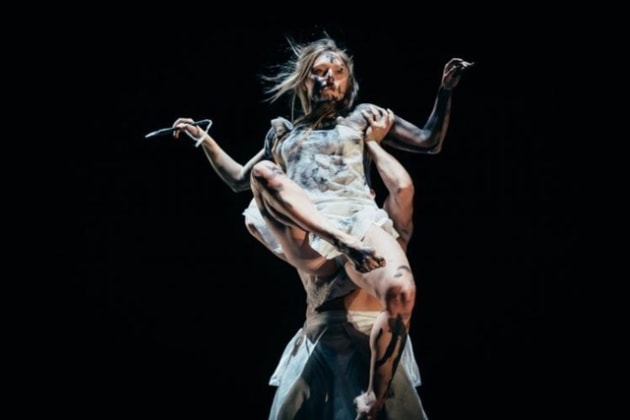 Did you learn anything unexpected about yourself through doing your full-time studies? 
 I learnt many things that were unexpected, yes. Perhaps the most useful thing that I learnt was that the body is malleable. If I would train hard at something, one day I would become it. It was just a matter of time. I've now experienced this in the studio, learning repertoire or creating with a new group. There's something magical about the transformation that takes place. You become something unexpected, through the intermingling of other bodies, sound and setting. That's the same in life in my experience.
Now that I have travelled to many countries and worked with people from diverse backgrounds, for creations, live performance and film, I'm constantly amazed and in love with the many ways there are to live life and to be. In that sense movement is no different and I love to experiment with a body that is in constant transformation.  
What was one of the main life-lessons you learnt through your full-time studies?
Training with Terry Simpson was a training on many levels. On one level it was a technical ballet training and on another it was a school for life lessons. That's why the school was right for me. Even though I didn't articulate it in these words at the time, I was always more interested in getting to the essence of something, in this case it was movement through the lens of ballet. The connection I felt with Terry was a shared appreciation for the essence that could shine through a dancer, or piece of music, and that's why I was able to embark on a rigorous full time training in her school.
Of course there was a lot to learn which required hours upon hours of practice in order to master the syllabus. I would take a class whenever there was one available regardless of the level. The enjoyment and satisfaction I received from practising was one that I wasn't able to find in quite the same way at high school or doing other sports.
The Full-Time Studies Guide is published in the July/August/September issue of Dance Australia. Buy from your favourite dance retail outlet or go here and never miss an issue!
Sign up to our e-news here. It's free!