Making it about here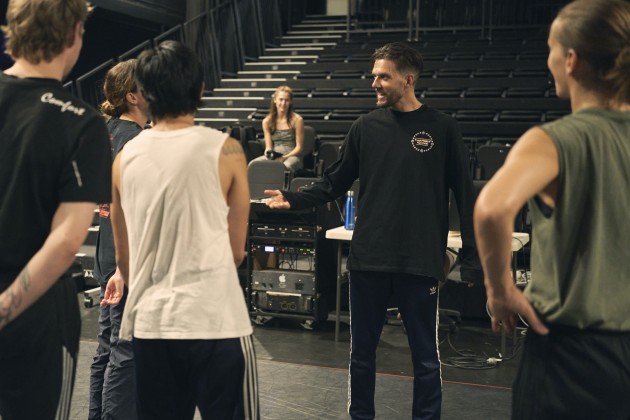 On the eve of his first season as ADT's artistic director, Daniel Riley spoke about his plans to Dance Australia's Maggie Tonkin.
When Daniel Riley was 13, his school-teacher father asked Elizabeth Cameron Dalman, then giving dance workshops at the Queanbeyan South Primary School where he taught, for advice about his son's dancing. She suggested he start classes with the newly established Quantum Leap (now known as QL2) where, Riley says, he "found his people". 
From Quantum he was accepted into the dance program at the Queensland University of Technology, taking a year out to dance in Adelaide with Leigh Warren & Dancers that was funded by an Australia Council initiative for young First Nations dancers. On graduation he auditioned for Bangarra. He danced with the company for 12 years, where he also started to choreograph, creating the works Riley, Blak, Miyagan and Dark Emu. After leaving Bangarra in 2018, he moved to Melbourne to work with indigenous theatre company lbijerri, as well as Chunky Move, before taking up a position as dance lecturer at the Victorian College of the Arts.
On being appointed Artistic Director of Australian Dance Theatre last year – the only First Nations person to lead an Australian dance company outside of Bangarra – he phoned Cameron Dalman to let her know that he would be directing the company she founded over half a century ago. The bond between them is enduring and deep, not just because of her influence on his own career, but also because of Cameron Dalman's ground-breaking interest in Aboriginal Australia and support for indigenous dance and creative practice back in the 1960s and '70s. 
"When I met her as a kid," he says, "I didn't know what an incredible giant of Australian dance she was. It wasn't until I went to university and studied the history of dance that I realized who she was." When researching for his application last year, he read her account of the founding of the company. It made him cry, because her vision was so close to what he wants to the company to be. He sees his role as artistic director as being guided by the principles that inspired her to name the company Australian Dance Theatre back in 1965.
As a proud Wirradjuri man, he tells me, his practice is based on First Nations ideals: "Elizabeth Cameron Dalman called her company Australian Dance Theatre, so I am looking to focus on Australian stories, to ground ADT here on Kaurna country, and to always engage in reciprocal, respectful ways with the people here. It is important to me culturally, as a First Nations man, to make sure we are engaging with the Kaurna people. My interest in stories is in the land, this incredible landscape of Australia, as well as the people. It's all about conversations and relationships; it's looking at the essence of story-telling, which is all about community gathering." 
Riley sees neither traditional theatres nor international touring as essential to his choreographic practice: "It's lovely to have proscenium theatres to tell stories, but it's not necessary. While I will make work for proscenium theatres, I will also make work outside of them, depending on how the story demands to be told."  
His focus is unequivocally local, arguing that he believes that audiences are now more interested in Australian work, perhaps fuelled by effects of the pandemic. He feels that the tide has turned, and the time is right for ADT to tell both First Nations and non-First Nations stories alongside each other: "We aren't exclusively a First Nations company but that doesn't mean we can't tell First Nations stories and utilise First Nation's practices. I feel that audiences now want to know what's here. It's great to see international work, but I'm not aspiring to that. We will tour overseas when the time is right and when we have something that people might want to see there, but I'm not making work for that. I'm making work for Australia – this land – because it's this land that inspires me, and the people that inspire me. And eventually, that makes the work we make more intensely Australian and interesting to overseas audiences anyway."
Riley is very clear that his priorities are to make sure ADT is grounded in Adelaide, that it programs more seasons here and engages strongly with the regions. His program for 2022 reflects these priorities. The first season, Outside Within, consists of work by two indigenous choreographers for the first time in ADT's history: Barkindji choreographer Adrienne Semmens's Immerse, and his own The Third and Mulumna – Inside Within. After the Adelaide season in May, the program will tour to seven SA regional centres. 
"We are already planning our 2023-2024 regional tours and thinking about the work we will take. We have appointed Adrienne Semmens to our first learning coordinator role: she has wide connections and experience, and she's planning workshops, and looking at how we engage with First Nations communities." In September, Riley's first full-length work for the company, SAVAGE, will premiere in Adelaide, and in October the company will travel to Melbourne to take part in DanceX, curated by David Hallberg of the Australian Ballet.
Starting his directorship has presented him with opportunities to forge a sense of ensemble and develop creative partnerships. Shortly after he began at ADT, he took the company up to Ukaria Cultural Centre in the Adelaide Hills for a week-long residency to get to know each other. "It's so important to me that we have relationships outside the studio; not only because it makes our working together easier, but it also forges a sense of connection that is powerfully evident to audiences when we perform. It's a First Nations principle of community. 
Asked to describe his creative process, he says, "We take everything – all of ourselves – into the studio when we create, so our relationships are intensely important to that process. Creation in the studio is a conversation and a process of exploration."
He is revelling in his new position allowing him to work with the creative artists of his choice, seeing this as part of ADT's rich tradition of collaboration, saying, "I can call anyone now and ask if they want to work with us: and I've got incredible artists I am going to work with, both from Adelaide and elsewhere. It's such a privilege." 
It's also crucial to Riley to honour his forebears. He says: "Respect for elders is part of my cultural heritage and I have the utmost respect for Liz Cameron Dalman, of course, but also for ADT's other past directors, Meryl Tankard, Garry Stewart and Leigh Warren. Jonathan Taylor is no longer with us, sadly. I had lunch with Garry last week, and Leigh has already been into the studio to visit. It is important to me that they are aware that I know I am standing on their shoulders, that I have so much respect for them."
Riley is bursting with ideas and plans and admits that the challenge will be to keep pace with his ambitions for the company, including plans for the company's 60th anniversary in 2025. He sees his appointment as a First Nations artistic director as living proof that First Nations artists belong everywhere in the Australian arts scene and hopes to embolden and champion others to follow him.
– MAGGIE TONKIN
Find out more about 'Outside Within' here.
Like this article? Sign up to our e-news and receive weekly news and reviews from our team of dance writers around the country.