'Le Petit Kangourou' bounds to top honour.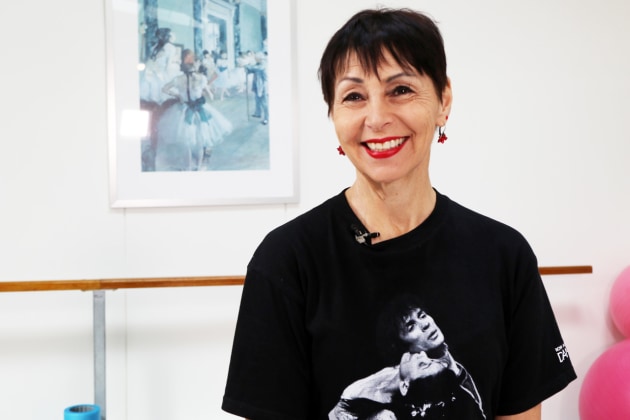 Marie Walton-Mahon's lifetime devoted to dance was recognised in this year's Queen's Birthday Honours list. Former pupil Belle Beasley pays tribute.
After 47 years of sharing her love for dance with students across the world, Marie Walton-Mahon has received a humbling recognition: A Medal of the Order of Australia for her lengthy "services to dance as a dance teacher". The award came as no surprise to anyone – save Marie herself.
"I was overwhelmed completely by the all messages," Marie says, in reference to the barrage of congratulations she received from students, colleagues, friends and family. "I didn't sleep at all. It had me so emotional!"
Hearing Marie's gratitude for the outpouring of support feels like getting a secret glimpse backstage. To her students, she has always seemed to embody the quintessence of elegance and poise, rarely flustered by anything. However, after receiving over 600 messages from those whose lives she has touched over the years, it seems only fair that her emotions were running high, and she admitted to shedding a few tears.
Today, Marie is the Founder and Director of Progressing Ballet Technique, a veritable empire of safe dance with a syllabus that reaches almost every corner of the globe. It is a far cry from her humble beginnings in Maitland, NSW, where she was first put into ballet at age three. "The school was very small, just fun dance really… But I just fell in love with the movement, and the music. By six I was hooked."
She began teaching as a teenager, as a way to help her family keep up with lesson costs. "Ballet was my life, and I had to find a way to afford my lessons. [My teacher] Tessa [Maunder] gave me cleaning work, and then teaching work, which I loved. I had a vision to run my own ballet school after dancing.
"I had a very analytical brain as a student. I remember becoming obsessed with analysing how to get one more turn, or how get my leg higher. I wanted to find a way around the brute force that was the norm of that time."
A full scholarship to study under Rosella Hightower in France sent her overseas at 17, where her energy and penchant for allegro earned her the nickname le petit kangourou. Her fiery attitude stood out to the then-Director of Le Ballet National de Marseille, Roland Petit, and she was offered a company contract. It was a dream come true, and she spent three years performing throughout Europe with the company and rubbing shoulders with the likes of Rudolph Nureyev and Maya Plisetskaya. Unfortunately, Marie's dance dreams were short-lived when a family tragedy saw her obligated to return home. Her contract in Marseilles waited for her, but she knew she couldn't leave her loved ones. "Blood is thicker than water. And my family needed me."
Thus, Marie was propelled into her journey as a ballet teacher. "At the beginning, it was a real challenge working with so many different little bodies, but I wanted to help each student achieve their personal best. I began researching and reading everything I could get my hands on about safe-dance technique.
"In later years, I realised that my students needed extra training that prioritised feeling over form, and I experimented with a fit ball as an affordable method of cross-training similar to Pilates. Eventually, I began demonstrating some exercises at the Royal Academy of Dance Examiners Conferences – and I realised how useful this cross-training could be across the board."
Initially however, the creation of Progressing Ballet Technique was paused so that Marie could establish the National College of Dance in Newcastle, a full-time accredited dance facility that supported an alternative pathway to university. "Creating the college was the most difficult thing I ever did – it wreaked havoc on my health ­– but I'm so proud that I did it. When it was finalised, it was necessary to pull back on teaching in order to embark on the next adventure with Progressing Ballet Technique."
It seems that even when she tries, Marie is averse to the concept of pulling back. Since the dissemination of the first PBT syllabus DVD in 2012, the program has gone from strength to strength, with over 4000 teachers now certified world-wide. The online platform offers over 400 tutorials to members, welcoming dancers from all ages, skill levels, geographical locations and socio-economic backgrounds. And she isn't stopping anytime soon, with upcoming ventures including the creation of a modified PBT program for dancers with disabilities, as well as the opening of a specialised PBT facility in Sydney. 
"When the lockdowns were first imposed, we all thought that PBT wouldn't survive. But the expansion of our on-line platform allowed us to reach people all over the world who are missing their training and their dance community." Marie's unique ability to unify people through a love of ballet guarantees her long-lasting influence on the art form. The world of dance is lucky to have her.
Sign up to our e-news here. It's free!