Great Collaborations: Kyle Page and Amber Haines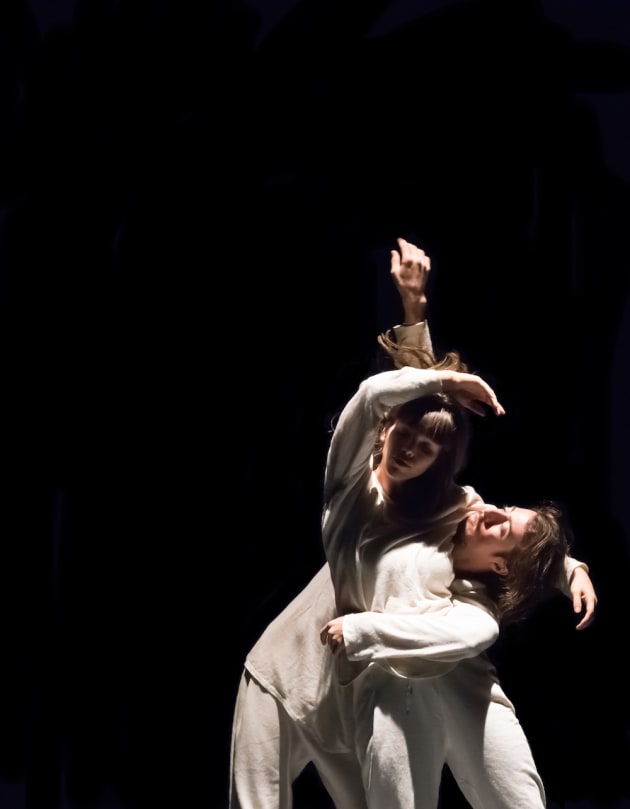 Nina Levy talks to artistic partners about what it takes to make work as two.
Kyle Page and Amber Haines are artistic and associate artistic director respectively of Dancenorth. They are married and have a baby son, Jasper, born in 2017. The pair have just been shortlisted as nominees for the 2018 Australian Dance Award (ADA) for Outstanding Achievement in Choreography for their work Rainbow Vomit, and Haines has been shortlisted for the ADA for Outstanding Performance by a Female Dancer in their work Syncing Feeling.
FROM the development of the great classical ballet by Petipa and Tchaikovsky to the experiments in composition of Cunningham and Cage, some of the greatest steps forward in dance have been taken in tandem. Two brains are, arguably, better than one… but when it comes to great collaborations it's not simply about double the brain-power, but about that spark, that alchemy that sees ideas bloom and proliferate. In this new regular feature, Dance Australia will take you behind the scenes of dynamic artistic partnerships, giving you a window into the mysterious chemistry that enables magic to happen. 
Nina Levy: You met as dancers at Australian Dance Theatre – how did you come to collaborate?
Amber Haines: In the environment of ADT the dancers make most or all of the material, so we started a choreographic journey together there. It was so rich that we decided to continue it outside the ADT walls. We negotiated an arrangement with Garry (Stewart, artistic director of ADT) in our final year with the company, where we committed to certain tours and performances, and otherwise we would go off and do our own thing.
Kyle Page: We had created quite a few duets for ADT and then for one of the "Rough Draft" programs we began developing a short duet that ran for about 10 minutes. That was the genesis of the work that eventually became Syncing Feeling.
NL: How did you come to be artistic director and artistic associate director of Dancenorth?
KP: In that year that we were working part-time at ADT we were getting ready to move on. We were supported through the Australia Japan Foundation, the Australia Council, Arts SA and the OzAsia Festival to create a project called Spectra with some Japanese artists. It was set to premiere at the 2015 OzAsia Festival. We had a new project with Stephanie Lake and some work with Lucy Guerin. Then the artistic director role came up at Dancenorth. I had a history with the company – I was a dancer here when I was 17. We thought, why don't I throw my hat in the ring and we'll try and bring some of these projects that we've got lined up under the umbrella of Dancenorth. I was quite young, only 27 at the time, but I was offered the job. Amber came up initially as a dancer, then was made rehearsal director, and is now associate artistic director. As far as I am concerned, though, we are co-artistic directors.
NL: How would you describe the work that you make collaboratively?
AH: All of our work is grounded in physicality. It's richly layered with the visual, kinaesthetic and sonic elements.
KP: We spend quite a bit of time investigating or layering and entwining all of those components to a show. We're also drawn to powerful images in our work, lasting images, legacy images...
This is an extract from "Great Collaborations", a regular feature that will make its debut in the August/September 2017 issue of Dance Australia, out soon! Keep your eyes peeled for the new issue at your favourite magazine retailer or subscribe here, or purchase an online copy via the Dance Australia app.