Grace in adversity
There are some moments in childhood we never forget. For Robyn Hendricks it was her first ballet class at the age of eight. She was put with children much younger than herself and the class was very basic but she remembers having enormous fun. It was the start of an obsession that has taken her from the coastal town of Port Elizabeth in South Africa to the hallowed stages of the Australian Ballet.
Hendricks is one of three children in a high achieving family – her father is a merchant banker and her mother a psychologist. Although she was initially expected to find her way into academic circles, she proved to be the artistic one in the family. She studied Cecchetti method classical ballet and very quickly realised that she had found her calling. When she qualified to compete in an international Cecchetti competition in Melbourne, she made the trip to Australia at the urging of her teacher. She did not win the competition, but in the audience was a representative from the Australian Ballet School, who offered her a covetted place. Before her place was confirmed, "I had to do a class on my own taken by Mark Annear and watched by the director Marilyn Rowe. Pretty scary!" she remembers.

South Africa does not have a national ballet school like the Australian Ballet School, and career options in ballet are limited, with many theatres and arts companies having closed after the dismantling of apartheid. " Anyone who does want to make a career [of ballet] has to get out quite young," Hendricks says. The opportunity to come to Australia was too good to miss. The young Robyn left home at the age of 16 and was soon immersed in the full-time studies. "It was hard but I loved it. It took me a long time to get used to the hours. I was exhausted for a lot of it. I had never done contemporary or character and I really struggled to pick up exercises and different sorts of movement.

"But you grow up really quickly, and as much as some days I wondered if it was really worth it, I knew that I had it in me and that it was going to be okay. I was really driven and motivated to reach the end."

She did make it to the end and furthermore was offered a contract with the Australian Ballet in 2005. Since then, she has excelled both in classical and contemporary ballet, and has been nominated four times for the company's Telstra Ballet Dancer of the Year award. She lists her first highlight as performing in Jiri Kylian's Petit Mort (who wouldn't?). And who can forget those photographs of her in the company's promotional shots of Stanton Welch's La Bayadere – bejewelled, bare-waisted, imperious and capitalising on her exotic looks. She was cast as Gamzatti, "a big role for me and an amazing opportunity".

She lists as her most significant role as performing opposite former principal dancer Robert Curran in Christopher Wheeldon's haunting After the Rain in 2011. She was initially third cast, but was called on to replace a pregnant Lucinda Dunn. "So that was one of the first big opportunities. I feel like everybody suddenly saw something different in me after that."


But it was about this time that things started to go wrong for Robyn Hendricks. She was experiencing continual pain in her foot. For about two years she struggled, in and out of treatment, "trying to figure out what it was". "It was really hard and painful," she says. "This job is really hard when you're happy and you're healthy, and I think those two years were really tough because I knew something was terribly wrong with me and I was down all the time and in pain and I wasn't dancing like I knew I could."
Finally she found a surgeon who was able to give her an accurate diagnosis. "I pretty much had smashed my sesamoids."

These are small bones the tendons in the ball of the foot, which act as a pulley for the tendons and are essential for the movement of the big toe and for cushioning the ball of the foot. "I no longer had a sesamoid bone, which is pretty important, especially for girls. In ballet that's what enables us to do demi pointe and work through the foot. I don't have that anymore. It's a little bit difficult and uncomfortable. It is better in pointe shoes than in flat shoes."

The surgeon gave her three options: "He said, 1. I could quit, or 2. we could fix your bones and rethread your flexus hallicus longus around something different but you'd have to come in probably every year and get it redone. And if I had that done it would be about 18 months recovery, I'd have to learn to walk again, I'd have to learn to use my foot again. Or 3. I could just deal with it."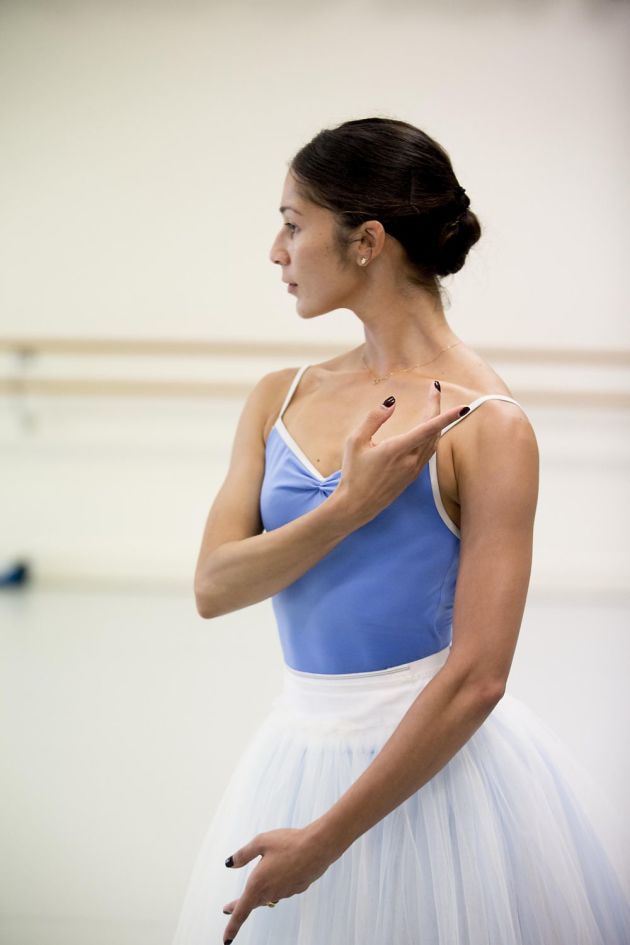 She went for the third option. "So that puts everything into perspective. I didn't want to finish dancing, so I just put up with it." She undertook nine months rehabilitation, retraining and strengthening the muscles around her foot and ankle to enable her to work around the affliction. "Pretty much starting all over again."

"I think that's been the most challenging time. I've torn my calf before, but your muscles heal and you get better quite quickly. But this was mentally quite difficult, it really takes over. But I had so much support."

She worked closely with the Australian Ballet's physiotherapists and rehabilitation coaches, "a lot of sessions one-on-one in the studio looking at the functions of certain movements and technique to help protect my feet and lower legs.

"All dancers have their own formula of doing movement and I had to find new ways of moving for me without hurting myself further and for the longevity of my career.  I also worked closely with our body conditioning specialist and my pilates instructor who I see on weekly basis outside working hours, and did a lot of gym, swimming and cycling to keep up my fitness level, strength and muscle bulk."

A dancer's career is cruelly short, and Hendricks was forced to watch while other dancers stepped into roles she coveted. "I did miss out on opportunities during my time off which I believe really did hurt my career. I had to fight really hard to be given some of the opportunities again and to be thought of for some of the big roles ...

"It definitely wasn't easy to see others getting roles before me but I really do believe that timing has so much to do with this career. A lot is about being in the right place at the right time – and I believe that it's my time now!"

And time seems to be proving her right. She has emerged from her injury and has returned to the top of her form. She is not only dancing lead roles, but has now made her debut in the most lead role of all – Odette/Odile in Swan Lake.

"It's been the most difficult role to date," she says, "but not because of the injury. I haven't had enough rehearsal time." When we spoke, she had had only three rehearsals with her partner and she was making her debut in just over a week in Adelaide.
"So it's probably the quickest rehearsal time I've had to the ballet of all ballets. It's a little bit freaky. And a lot of it's been self-taught." Typically though she concludes: "This one's been a real challenge. A good challenge." Having survived her injury, she's ready for anything.


I watched her perform the Swan Queen in Melbourne, a few weeks after her debut, with partner Ty-King Wall. There was no evidence technically that she had come back from any injury. Nonetheless, knowing what I knew – the pain she had overcome, the meticulousness of her recovery – her portrayal seemed infused with vulnerability – those delicate legs tapering to highly arched feet. She was the embodiment of the ballerina's unique combination of steel and fragility. Little wonder that two nights later artistic director David McAllister announced her promotion to principal dancer.

Hendricks is married to fellow Australian Ballet dancer Charles Thompson. Together they share interest in horse racing. "Charles grew up on a dairy farm," she explains. "I just love these beautiful animals and am in awe with all the time and love they put in to looking after these beautiful creatures."

I would add, something like the time she has had to look after herself.