Traditionally dance has been thought of as a young person's game but does it have to be?
In "Dancing at any age", a multi-part series running across Dance Australia's print magazine and website, Nina Levy interviews various dancer elders to recognise and celebrate the richness that older dancers bring to our community. Here Nina speaks with Irina Kuzminsky.
Though Dance Australia readers may know Irina as a dance critic, she is also a dancer and choreographer of many years experience, performing under the stage name Irinushka. 
Nina Levy: Irina, describe your dance practice.
Irina Kuzminsky: My practice... it is a day by day discipline and a daily dedication to my art. I feel increasingly that the discipline and the training are about all facets of the self – physical, emotional, intellectual and spiritual. Classical dance in particular, in its purest form, can become a kind of yoga practice, yoking the body to mind and spirit.
What I have lately started doing is, interestingly enough, something I had an intuition of when I was a child of ten, namely, bringing poetry, dance and voice (spoken and sung) together in a synthesis which could be described as classical performance art. I had dabbled in this sphere before, choreographing to words and working with an actor, but the real opportunity to try and bring to life what I could intuit came with the publication of my first poetry collection, "Dancing with Dark Goddesses", in the UK, by Awen. I was invited to launch the book at the Heaven's Gate Festival in Stroud celebrating William Blake, and I thought, if not now, when?
That was how my first one woman show Dancing with Dark Goddesses was born, a dance and poetry fusion show which I choreographed, and wrote the music and poetry for. I subsequently had the opportunity to perform it not just in the UK but also in New York (thanks to the International Women Artists Salon), Germany, and here in Melbourne at Club Voltaire and Dancehouse. As an aside, German audiences are incredible in their attentiveness and appreciation of an artist's work. I had all my poems from the show translated into German though I performed in English, and I got an incredible reception. Things like that help one to keep going.
This year I presented a new show in the same format, Coming Through, which premiered at The Butterfly Club in October. Once again, all the material (apart from a nod to Liszt and Leonora Orsina from the Italian Renaissance) is mine – music, choreography, poetry. The show has no narrative as such, but is about the themes of grief and loss and coming through into hope, into the light. The triumph of the human spirit over all that may confront it.
My dance practice has become something I can no longer disentangle from the other arts as all the threads are there, forming a new synthesis of dance, poetry, voice and music. One of the comments I treasure most was from a young audience member in Bath after I performed Dancing with Dark Goddesses – "it feels very ancient what you do and very contemporary at the same time. Very powerful. It really speaks to me."
Apart from that I continue to attend professional ballet class here in Melbourne and whenever I travel overseas to London and New York. I also do Pilates, Garuda, and have lately discovered a belated passion for surfing – that feeling of being one with the wave, with the ocean is the closest I have come to dance outside of dance itself.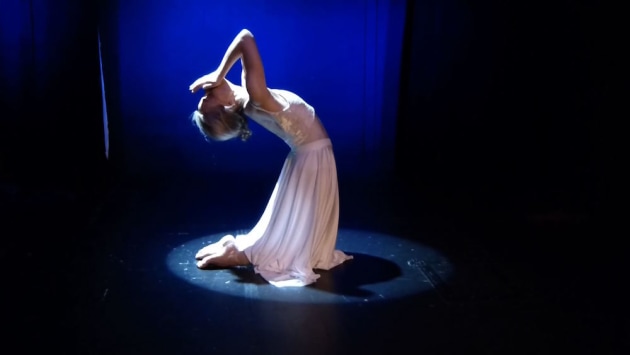 NL: Although you began your dance training as a child, your training was interrupted by injury. Tell us about your pathway to becoming a dancer and choreographer.
IK: I cannot remember a time when I did not dance. There was music – and I danced. It was inside of me, blessing and curse... like The Red Shoes. It is not, was never, a choice for me. 
My first teacher was Madame Xenia Borovansky, Edouard Borovansky's widow, and I owe her a lot. Madame actually said that I would never be able to stop dancing and she was proved right. Borovansky was, of course, the founder of the Borovansky Ballet which was Australia's major ballet company prior to The Australian Ballet. Unfortunately for me, Madame was coming to the end of her teaching career, but it is to her I owe an acquaintance with the old expansive Bolshoi style and that particular use of épaulement and the arms. I think she wanted to pass on as much as possible and as quickly as possible. In my case this probably contributed to my subsequent back problems as I was not robust or strong as a child, more on the thin and sickly side.
Dancing was all I wanted to do, but it did not work out that way. Health problems and back problems resulting in recurrent injuries had the doctors advising me to stop ballet in my early teens. Needless to say I was devastated. (In hindsight, it was probably the worst thing for my back as well.) But what it meant was that I concentrated on my schoolwork and music, performing more and more frequently as a pianist and giving recitals. Having completed two Honours degrees at Melbourne Uni in Music (piano and singing) and Arts, followed by a MA, I ended up runner up in the All-Australian Rhodes and then went to Oxford on a Commonwealth Scholarship to write my doctorate in Modern Languages and Comparative Literature on the "language of women", eventually being elected Junior Research Fellow in Humanities at Wolfson College. It was at Oxford that I started dancing again, thanks also to osteopathy and acupuncture. I remember the osteopath telling me that if I started dancing now I would not be able to stop, implying my body would fall apart. That suited me just fine as I never wanted to stop ever again. I began taking ballet class and before long I was dancing with a small semi-professional group and being given soloist roles.
Realising that I still had a chance to do what meant most to me I started training in earnest while completing my doctorate, and went on to tour the UK with small companies both as a dancer and as a singer. I did some cross-arts collaborations too which I really enjoyed. Time spent working with Indian classical musicians stands out for me, as well as a live event with a Greek sculptor.
My academic work has finally integrated itself into my practice which, apart from my dance, includes my music and my writing (articles and poetry – I have written on subjects such as Mary Magdalene and Kali, and have had three poetry collections published, the latest being "Artists and Lovers" by Coventry Press 2018, and had work included in two international poetry anthologies). My music actually evolved out of that first performance at Heaven's Gate. I soon realised that if I was going to be presenting my own poetry I would have to set it to music myself. So my old Conservatorium training stood up, and with the help of my wonderful recording engineer and fabulous musician Robyn Payne I have now independently released three albums (Roads Travelled and Orpheus Sings both received decent airplay in the US on alternative and college radio) with two more well on their way.
NL: What is it about dance that has made it a lifelong passion?
IK: The easiest answer is that I was born that way. And even when I thought it was all over and life had taken a different path dance came back to me and kept coming back despite all the injuries and stops and starts. There is a level on which I cannot imagine a life without dance. A bit like Anna Pavlova who would not countenance an operation which could have saved her life because it meant she would not be able to dance any more.
The dancers I have resonated with most strongly are those who saw dance as a sacred mission and who forged their own path – great female dancers such as Isadora Duncan, Martha Graham and, above all, Anna Pavlova. At its deepest level, dance is – for me – about being danced, an act of worship, ritual and transformation. It is about the Spirit. There is a wonderful quote from Martha Graham, if I may: "Art always has a relationship to the Spirit in creating it and appreciating it as something through which one enters the spiritual world … If one forgets that spiritual relationship, art goes through a transformation, and changes more or less into non-art."
Dance is my lifelong discipline and training and testing ground, my connection to Spirit on a visceral level. It is something that continually challenges me, forcing me to question myself, to learn and to grow. It is also simply part of me and so I search for ways in which I can dance into the future. To retire from that would be like retiring from life itself.
NL: When it has been hard to stay committed to your dance practice?
IK: I have always been fully committed and passionate as it is a true love. However, injuries are always hard. Every time something serious happens you think you won't get back. One such was a bad foot injury when I came off pointe awkwardly shortly before leaving the UK. It took a year to start doing class again and I really thought it was over, because of the foot, because of the move back to Melbourne (where I am from) – I had not been back for so many years it was very difficult if not impossible to think I would dance, let alone perform, again. It had simply been too long.
Back spasms from scoliosis were another recurrent problem, while a knee injury to my left knee followed by a broken right foot almost spelled the end quite recently. However, these latest injuries were a kind of blessing in disguise as they forced me to return to basics and rethink a lot that I thought I knew. The humility and willingness not to know, to start again however old you are – I think that is what has made it possible for me to keep going and start over and over. I feel I am discovering more and more the deeper I go into my practice, and there is no end in sight.
My vision of classical dance is also not in tune with a lot of ballet now with its emphasis on linearity, high extensions and technical tricks. I feel that in many cases we have lost more than we have gained – the rounded lines, the expressive curves and the ways in which these would extend through the body, the subtle shadings of épaulement and uses of upper body, arms and head, and the sheer exhilaration of speed. So at times I have felt so at odds with what was being emphasized in class and on stage that I have doubted myself and felt that there was no point in going on.
NL: How do you feel you have changed as a dancer over the years?
IK: With age the dance becomes more about a dance with and through life: how can one dance with life, in a grace filled and courageous way? Ballet class exposes all of you – fears, moods, insecurities, and gives you glimpses of what you are working towards. It's like a training ground. With age you have to become more and more sensible in class, know when to stop, listen to your body, cultivate that constant inner awareness which is so much easier said than done. And accept yourself with all your faults (which seem to become more and more evident!) while striving still for a perfection you know for sure now you will never attain.
Things like fouettés, how many turns you can do, how high your leg goes become less and less interesting, and not only because you can't do them, or can't do them as well. It comes back to expressiveness, to what the human body is capable of conveying, of saying – about itself and its own journey, and about the soul that gives it life.
Also, while at the start it was only classical ballet for me (or my understanding of it), now I find myself looking more and more for new forms of expressive movement, trying to find a contemporary way of dancing which isn't stuck in the "contemporary dance" of the twentieth century either.
NL: What are the positives of being on older dancer?
IK: What I seek in my dance practice now, outside of class, is a return to my roots – to the instinctual joy and response to music I knew as a child when I would just burst into dance when I heard music playing, whenever, wherever (I recall Myer department store for one, the church hall where I remember, as a three year old, clearing the floor of all the others because I needed to dance). That joy, that expressive spontaneity to say both more and less than words can say, is there somewhere to be recaptured and reinterpreted in the light of decades lived – all of life's disappointments, battles, injuries, and its moments of exaltation, of peace, of pure happiness and the sheer perseverance to get through it all. All these become layers inscribed on your body and psyche, an interiority that can be called on as you stumble on ever finding your particular expression as a dancer.
NL: As an audience member, what do you enjoy about watching older dancers perform? 
IK: For a start I like watching older ballerinas. The few who have managed to keep going into their forties (and beyond) bring a tremendous wealth of experience and depth to their roles. They are also a living link within the tradition and the importance of this in an art form such as dance should not be underestimated. I also think that a company which does not have senior dancers in its ranks loses out. There is a palpable loss of depth in the productions.
Across the art form the senior dancers who stand out for me are the ones who are making an artistic statement both irrespective of age and enhanced by it. I remember going to a performance at Sadler's Wells not so long ago. Sadler's Wells set up the Elixir Festival, I believe in 2014, to recognise the contribution of older artists and showcase the richness and diversity of their practice. This featured, among other artists, the Company of Elders, who are all dancers over sixty. What impressed me about the programme I saw ("KnowBody") was not so much the dancers who were demonstrating what they were "still" capable of physically (which was pretty amazing in one piece by Jonathan Burrows) but the ones who were true artists regardless of their age and had been able to harness all the experience of age to serve their art. I particularly remember being impressed by Chilean dancers performing extracts from a work about Frida Kahlo, Mats Ek dancing with Ana Laguna, and Dominique Mercy in a solo. If we start to take older artists and their contribution seriously we might be surprised by the truly new and unexpected places this might take the art of dance.
Parts 1 and 2 of "Dancing at any age" were published in the August/September 2019 and December '19 /January '20 editions of Dance Australia, respectively, and featured interviews with Elizabeth Cameron Dalman (Part 1), Liz Lea and Julie Doyle (Part 2). You can also read an interview with Katrina Rankin here. Stay tuned for more interviews, coming soon!