What is it like to be a dancer... and a mother? 
In latest issue of Dance Australia, Jo Pollitt writes about dance and motherhood; the impact of being a mother on artistic practice and identity... and the affect of being an artist on one's experience of motherhood. Here she talks to independent emerging artist, Sophia Natale. You can find profiles of Brooke Widdison-Jacobs (West Australian Ballet), Paea Leach (independent artist), and Muriel Hillion Toulcanon (independent artist) in the April/May 2017 issue of Dance Australia.

SOPHIA NATALE, Emerging artist, Perth
Daughter: Matilda, age 18 months
In February, Sophia presented her work The Art of Intimacy, created in collaboration with Eve Newton-Johnson, at the Perth Fringe World Festival and she is currently dancing in Strut Dance's production of William Forsythe's One Flat Thing, Reproduced. No stranger to challenges, Sophia graduated in 2013 and took a short hiatus from dancing because of a serious back injury. She is an outstanding young artist who has developed a passion for dance photography during her recovery, which works in well with her continued pursuit as dancer following the birth of her daughter in 2015.
"Mothering has given me new-found inspiration and motivation. The transition you make is absolutely mind blowing – it changes the way you think in every possible way. Every single day is a creative process to me now, from actually being in a studio working on my body and ideas, to sitting in front of my baby figuring out how to make her eat this bowl of mush I've just cooked for her.
"More than anything it has made me appreciate just how valuable time is. How much you can really get done in a day, but more so how it's so easy to 'waste' a day laying in bed with your baby (which is secretly my favourite thing to do). If forces you to be more organised with the little time you have to yourself as a mother.
"I feel extremely lucky -- my post-partum body seems to be even better than it was before falling pregnant. I often say I felt like everything in my body reset itself after giving birth. Something about knowing that if I can survive labour and the pain that comes with it then I can definitely push harder in a dance class. So, yes, I feel I'm dancing better than I ever have!!
"In terms of the theory of the combination of sleep deprivation and intensity of early motherhood generating a heightened creative state – I absolutely agree! The only problem is finding the time to put these world-changing ideas and thoughts into action and make them real life. . . !
(Story continues after photo)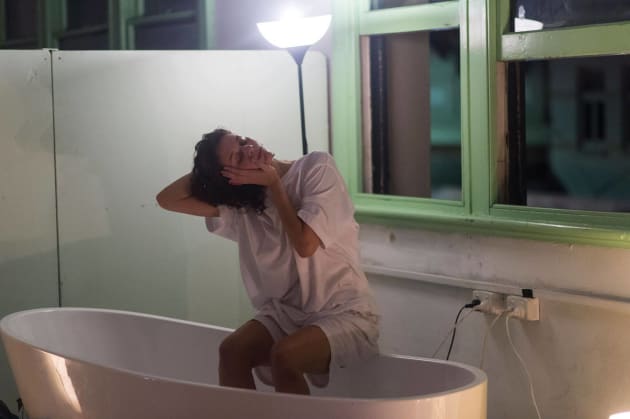 "Any sort of huge transformation like becoming a mother is going to change the level of how informed you are about yourself. For me it meant I needed to grow up more quickly than I would have done without having my baby. It meant that I needed to start thinking realistically about my dance career and how it is going to benefit both my daughter and myself now and in the long run. More than anything it made me realise how much I value dance and how much I feel dancing is a part of me.
"Becoming a mother informed me that dance needs to be in my life every day somehow to allow myself to be happy. If you're going to be away from family and in the studio, than you may as well go hard and make it worth it. The time I get in the studio is the only release I get from the responsibilities of parenthood, so I value it highly. I'm also very lucky in that I have a huge support network. I feel restricted in a lot of ways in terms of travel and time but I'm sure those things will come back to me one day."
- Jo Pollitt
Jo Pollitt is a choreographer and writer whose practice is grounded in performance improvisation and creative arts research. Working variously as dramaturg, dancer, mentor and maker, she currently lectures at WAAPA and is in the thick of her PhD. Jo is also the co-creator of BIG Kids Magazine and the Mother Artist Forum, and mother of three children. For more interviews check out the Mother Artist Forum blog at bigkidsmagazine.com where you'll find thoughts from artists across disciplines including Stephanie Lake, Karen Pearlman, Sally Richardson, Sandi Woo, Alexandra Harrison.
Top pic: Sophia Natale
Want more? Read Jo Pollitt's discussion about dance and motherhood and three more profiles of "Dance Mums" in the current issue of Dance Australia. Don't miss out! Look out for the new issue at your favourite magazine retailer or subscribe here, or purchase an online copy via the Dance Australia app.