Careers Special: Alice Lee Holland
This profile was first published in the October/November 2016 issue of Dance Australia as part of our Careers Special feature, exploring all the career options for those with dance training beyond performance.
Alice Lee Holland
Resident director, Circa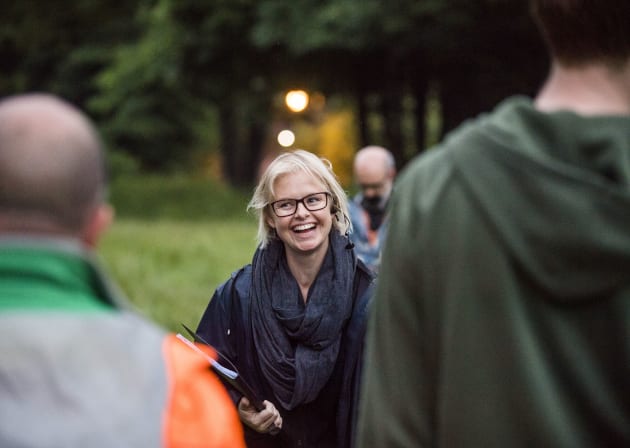 Until six months ago, Alice Lee Holland was firmly entrenched in dance. As an independent choreographer she has made numerous works including full-length works Tiny Little Tragedies (2012) and Preparing to be Beautiful (2008). Holland was artistic director of West Australian-based STEPS Youth Dance Company from 2009 until the company was absorbed into WA's flagship contemporary dance company Co3 in 2015.
Now she is resident director of Brisbane-based circus company, Circa. So what led Holland to diversify into the wonderful world of circus? "A desire to keep developing and stay challenged," replies Holland. "When I finished my time with STEPS I wanted to make the best 'next decision'. There's not a lot of opportunities to be an artistic director or in a position of leadership [in dance] and I wanted to keep growing in that way."
The role of resident director is an eclectic one, says Holland. "I spend a lot of time in the rehearsal if we're making a new work. I've been involved in four new creations so far. Of the six months I've been in the role, I've been on tour overseas for four of those. My role also depends on what the tour is and what the show is. I spent two and a half months working on a show called Closer, at the Underbelly Festival. That involved stage management, tour management, direction… It's fluid, depending on what is needed. When Yaron [Lifschitz, artistic director of Circa] is around I do a lot of assistant directing. When Yaron is not around I have to make a lot more decisions."
Transitioning from dance to circus has involved a shift of approach. "Circus is far more different [to dance] than I anticipated," reflects Holland. While a Circa show may appear to have similarities to dance, the way the work is created and structured is different, she says. "In Opus, for example, there are far more elements of improvisation and response than you realise. Also acrobats work inside a set of specialties. That is a lot about where the work comes from – how does this person meet that person in the space with their particular specialties… rather than someone coming in and expecting that everyone in the cast can do the same thing."
Holland has developed a number of new skills in the role. "I've learned to switch head spaces really fast," she says. "Tour management is a lot about fine detail and how are we getting from the train station to the accommodation whereas associate director, you have to be in a creative space and ready to have conversations about the concepts of the work… And then there are the more obvious skills. I'm building my understanding of circus in terms of vocab and skills and specialties, and rigging."
 
Whilst it's been a steep learning curve, Holland believes her dance background has given her a number of skills that transfer well to the circus context. "There's a certain kind of trust and fearlessness about dance. Those attributes have transferred. Secondly there's my experience as a dancer working with directors and choreographers on new work. When you're making something new there's a special attention you have to pay to every word. That attention takes you a little bit closer every time to what you're making, something new that no one really knows yet. In this role I'm part of that in the same way, listening and observing and contributing to the creation of new work… but obviously not contributing physically in this role."
A third skill that has transferred is about communication."The best example of that is we've just done a new work called Depart [pictured left & p20] in Tower Hamlet Cemetery in London," comments Holland. "It had 150 performers per night and they were from community choirs, and the National Centre for Circus Arts, the Central School of Ballet, Circa… and it was all for the London International Festival of Theatre. There were so many people involved in that work and being able to have the best possible conversations with all those people is something I developed across my decade as an independent artist."
Holland is relishing her being immersed in a new genre. "There's just one thing that's hard and it's that I want to know all of it NOW," she laughs. "At times I miss having that information about the technique and the way something feels [to physically do]. But I think mostly [my outsider view] is a good thing. And I love challenges, so even when things are hard, it's awesome. I'm learning at an exponential speed – it's pretty thrilling. The people I am working with are really fabulous because there's this culture – we're all driven hard by the same ambition and commitment to this family." 
- Nina Levy
Top photo of Circa performing Depart taken by Tristam Kenton.