Bringing back the glamour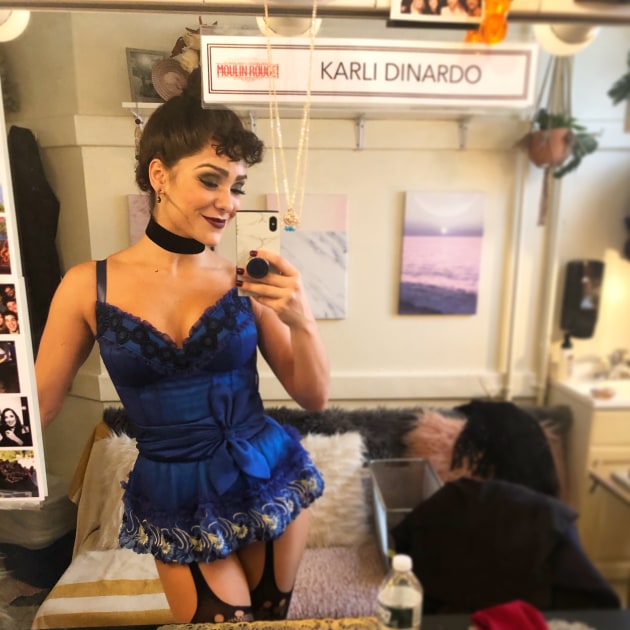 Karli Dinardo was tasked with conducting auditions for 'Moulin Rouge' in Australia for the NY team. She chats with Sally Clark.
n 2012 readers of Dance Australia were introduced to Karli Dinardo, a 17-year-old music theatre hopeful who shared her plans to relocate to New York after being offered a scholarship to the American Musical and Dramatic Academy (AMDA). Following her two-year course (which she condensed into 1.5 years by working through semester breaks) she was cast in regional productions of 42nd Street (as Phyllis Dale), The Pyjama Game and The Music Man – while still on a student visa. She then decided to make NYC her home and Broadway her mission when she attained a Green Card in 2016. 
Since then she has spent two years in the first national tour of Hamilton, as original dance captain, swing and understudy for the roles of Peggy Schuyler and Maria Reynolds. She then returned to Australia briefly at the beginning of 2019, making her Australian debut as Anita in Opera Australia's Handa Opera on Sydney Harbour rendition of West Side Story – a performance that saw her nominated for a Helpmann Award. Immediately following that she returned to NY to join the original Broadway cast of Moulin Rouge! The Musical as dance captain/swing and Nini understudy and was working in the show when it (and all of Broadway) was forced to close, on March 12, 2020, due to the pandemic.
This year, Global Creatures, the Australian production company who originated Moulin Rouge!, has brought Dinardo back to Australia to run dance auditions for their upcoming Australian production of this Broadway hit. I took the opportunity to meet up with her and find out about how auditions were handled while navigating Covid 19 outbreaks and restrictions, and hear how passionate she is about the show and its choreography.
Q How did you come to be in Australia working on the auditions? . . . 
Want to know more? This is an article from the current print issue of Dance Australia (April/May/June). Don't miss your copy! Buy from your favourite dance retailer or here.
Moulin Rouge is scheduled to open on August 13 at the Regent Theatre in Melbourne. See here.