Ben Stone, Les Ballets de Monte-Carlo
 Les Ballets de Monte-Carlo is coming to Australia in June/July with a contemporary version of Swan Lake, called LAC. The ballet is described as "a high drama of good versus evil, sex and betrayal, with a Machievellian royal family and ambitious villainess at its heart" and is choreographed by the company's highly regarded artistic director, Jean-Christophe Maillot.
Les Ballets de Monte-Carlo was founded in 1985 at the behest of the Princess of Hanover (Princess Caroline, carrying on the wishes of her mother Princess Grace), who appointed Christophe Maillot in 1993.
Among the 47-strong company of dancers visiting Australia will be Ben Stone, who was born in Melbourne and trained at the Australian Ballet School. Dance Australia asked him about life in the company. 
How did you come to join the Monte Carlo Ballet?
After graduating I joined the Atlanta Ballet Company in the US. While I was there I was exposed to Jean-Christophe Maillot's work through dancing the role of Benvolio in his production of Romeo et Juliette. I fell in love with the company's style and choreography. I had been a dancer in Atlanta Ballet for nearly five years and I knew it was time to move on.
I put together a CV and an audition reel which included little snippets of the different ballets I had been fortunate enough to dance in. I contacted the ballet masters who had set Romeo et Juliette in Atlanta and asked if there was a possibility of auditioning for Monte-Carlo. They informed me they were looking for male dancers; so, with their encouragement, I sent my application and was invited to audition. Although I was nervous when I arrived, everyone was so welcoming and supportive: I felt the good vibes from the moment I set foot in the building.
The audition was a four-day process. I took class with the company, learned some repertoire and performed it for Jean Christophe on the final day. Shortly after he offered me a contract and welcomed me to the family.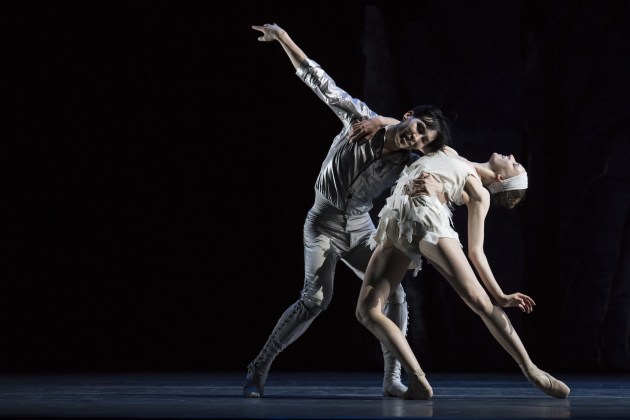 What sort of premises does the company reside in?
The company resides in an Atelier in Beausoleil, a quiet town overlooking Monaco. The building is a real working tool. Two architects - Daniel Raymond and Sophie Nivaggioni - collaborated with Maillot to design almost every millimeter of this space, taking into account the extremely specific needs of dancers and tradespeople involved in live performance. The building is comfortable and acts as a second home for the dancers, where they can dance and live without counting their time. 
What is it about the repertoire that appeals to you?
When I first saw Jean-Christophe Maillot's version of Romeo et Juliette I was enamoured by his innate ability to embody every note of Prokofiev's score with sharp movements and expressive shapes and with the unique way he uses hand gestures to tell a vivid story. Now, having danced in many of his modern interpretations of the classics, I'm always appreciative of how his movement and choreography acts as a text for each ballet. You can tell that great thought has been put into each scene.
Maillot's ballets have a great blend of minimalist sets and beautifully crafted costumes so that no one element overpowers the other. All of this, as well as the humour and captivating characters, are why I love Maillot's repertoire so much. 
 Describe an average working day.
We work from 10.30am to 6.30pm Monday to Friday with an hour lunch break. On Saturdays we usually work from 10.30am to 2.30pm. Saturdays can change due to touring schedules, upcoming creations, etc.
How much touring?
Ballets de Monte-Carlo is a touring company and is often on tour for over 200 days throughout the year. In my three years with the company, I've toured and performed in more than 10 countries and 20 cities. 
What roles have you danced so far in Ballets de Monte-Carlo?
I have danced in Maillot's Romeo et Juliette (Benvolio/Acolyte); Cinderella (Surintendant/Amis du Prince); LAC (Angels of Darkness); Taming of the Shrew (Hortensio); and A Midsummer Night's Dream (Nick Bottom, Francis Flute) and in Cy Twombly Somehow by Marie Chouinard  and Aimai-je un rêve? (The Dreamer) by Jeroen Verbruggen.
Tell us a little about LAC.
Lac is a four act ballet set in a magical world in a time period that is open for interpretation. A starts with a black and white film which tells the story of a prince and his childhood friend who are cursed and separated by the Queen of the Night, who wanted to impose her own daughter on the prince. 
Act 1 takes off several years later. The Prince is a melancholy man since the separation and kidnapping of his childhood sweetheart many years ago. Throughout this first act, the choreography is large, fast and expressive. The culmination of the first act is reached with the arrival of Her Majesty, Queen of the Night. Maillot merges the characters of the magician Rothbart and the Queen of the Swans into an Evil Queen. The Queen of the Night arrives with the purpose of presenting her own daughter to the Prince.
A motif I personally love in Jean-Christophe's ballets are the love triangles he instills in his stories. Whether it be the conflict between the Father, Fairy Godmother, and Stepmother in Cinderella, the brotherhood between Romeo, Mercutio and Benvolio in Romeo et Juliette or especially the hidden past, shrouded in mystery, between the King, Queen, and Queen of the Night that is present in LAC, these storytelling devices create fantastic sequences in Maillot's ballets.
LAC is still inspired by the classic story of Swan Lake. There is a Black Swan and a White Swan. There are plots to try and trick the Prince into choosing to the wrong girl. There is tragedy, love and drama. 
When we tour to Melbourne we will have 12 shows, three of those days being double show days. Since the company isn't huge, we inhabit many different roles. While I'll certainly be dancing in the corps a lot of the time, a role I will be very proud to dance is one of the two Archangels of Darkness. These characters act as an extension of the Queen of the Night, often symbolising the black wings of the Evil Queen while illustrating the span and reach of her seductive powers. We glide across the stage with the Queen of the Night with dynamic movements that transition into a flow of slow-motion waves, making it look like time is at a standstill. It's a very fun role to play with one another. You feed off of each other and you often feel like a little evil team on stage.  
Describe your life in beautiful Monte-Carlo.
I live in a cozy apartment with my girlfriend in Nice and take the train to work every morning. It's a 30-minute train trip with a fantastic view along the Cote d'Azure. Work keeps me busy of course but there is a handful of other dancers who live in Nice so it isn't unusual for us to gather in the middle of the week and hang out, either at someone's apartment, along the promenade or at one of the many local bars and restaurants. On the weekends Nice is packed along the main strip and in the old town, thanks to the famous flower and farmer's market Nice hosts every weekend. We are away on tour most of the season but we usually have three programs a season located in Monaco.
The Monte-Carlo Opera House has become one of my favourite theatres in the world, with its ornate interior, its breathtaking chandelier, the ceilings fitted with sculptures coated in gold and the view of the ocean from the stalls. I'll never get sick of rehearsing and performing at the Salle Garnier.
Due to our busy touring schedule, life at home on our days off becomes a natural rhythm of rest, relaxation and whatever involves enjoying the sunshine.
When we are off on tour it's often a coordinated effort among friends and colleagues to visit the many fantastic structures, restaurants, sites and marvels each city and country has to offer. At first, I found touring to be hard work, with a tricky schedule that was demanding on the body. Eventually I found my equilibrium and now, with a few years of experience, I've discovered the balance needed to thrive in a touring company. A few years doesn't seem that long but in that time I've performed all over the world in cities I couldn't have imagined visiting. I often have to pinch myself at what a gift it is to travel all season long. 
Les Ballets de Monte-Carlo is being presented by the Australian Ballet, and runs from June 27 to July 6 at Arts Centre Melbourne State Theatre. 
Bookings: here